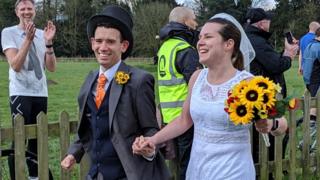 A bride and groom-to-be have been joined by 100 sidekicks on a 5km( 3.1 m) run on the morning of their wedding.
Simon Wright and Anna Thorpe dressed in a dress hat and curtain for the Parkrun at Catton Park in Norwich on Saturday, before going on to the ceremony.
The couple, who satisfied through their drive society and got engaged while on a run, required their Parkrun community "to be part of our special day".
"Parkrun is our Saturday tradition and we are addicted to it, " said Mr Wright.
Parkrun is a free timed 5km race run by voluntaries at thousands of locations across the world every Saturday morning.