A scheme to relocate Rohingya Muslims in Myanmars Rakhine state promises to dash dreams of a return to traditional ways
For the past seven years, Mohammad has been able to see the beach on the outskirts of Sittwe, and the Indian Ocean beyond, simply through a barbed wire fence.
" The only difference between a prison and the Rakhine camps is that in prison at least they know how long prison sentences is ," says the 23 -year-old, shaking his head.
Mohammad is one of 128,000 Rohingya Muslims forced from Sittwe, the capital of Rakhine state, and into cliques after Buddhist radicals burned down their dwellings in 2012.
For seven years, those who who did not flee across the border from Myanmar to Bangladesh have been pencilled in, denied access to education, undertakings, healthcare or even the have opportunities to" to go for a move along the beach and respite under a tree", says Mohammad.
Despite pledges by the Myanmar government to close the cliques, documents pictured by the Guardian show the Rohingya will not be allowed to return to the homes from which they fled.
Instead, rows of modular house bricks being built next to the camps is likely to be their brand-new homes.There is likely to be no property to grow cultivates or tend animals , no resumption of a traditional way of life or return to the city, where easy be made available to markets would allow them to sell their goods. Their motions restricts itself and, without identity documents, they will remain stateless, denied access to services and at risk of arrest if they should leave the compound.
" I want to work back in the community, I require my generation to be educated ," says Mohammad.
The bamboo homes with tin roofs in which Mohammad and his friend Rohingya live are packed tightly together. The camps are connected by a grime street, along which Myanmar police sit at checkpoints behind fences make use of bamboo spikes.
Men loiter at a makeshift teashop while infants play with a tin can and a piece of string. Manual water pumps and wells are the main source of water in each camp, while electricity is minimal, be established by a solar panel connected to a artillery setup or generator.
Sitting in her shack in the complex, Ma Hla Than, a mother of four daughters who lived in Sittwe before fuelling conflict, says:" I want to go back to my place of origin. I want to return there, as I feel safe there. Here the entire population is living together in one room, speaking and listening to each other. It's too much ."
Myanmar's minister of social welfare, succor and resettlement, Win Myat Aye, has said construction of the brand-new housing development is a response to an independent report are set out in 2017 by the advisory commission on Rakhine state, appointed by state counsellor Aung San Suu Kyi and presided over by the late Kofi Annan, a former UN secretary general.
However, one of the commission investigates, diplomat Laetitia van den Assum, former foreign affairs minister of the Netherlands, says the Myanmar government was cherry-picking from the 88 recommendations addressed in their final report and failing to address the root causes of the conflict.
" The priority is to make sure that the Rohingya could return to their place of origin ," she says." But it has to be made hand in hand with allowing them freedom of movement, and access to education and healthcare ."
Many Rohingya fear they will be pressured to move to the new resettlement sites.
Kyaw Aye, who has lived in the camp for seven years, says:" We don't want to depend on rations, we are ready to stand on our own two paws. If we accept moving to the brand-new resettlement locates we will lose the attention of the international community and any hope of returning home to our place of origin ."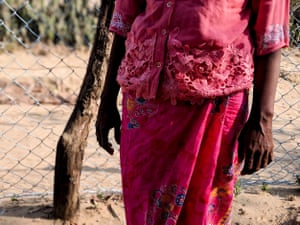 Read more: https :// www.theguardian.com/ global-development/ 2019/ may/ 02/ we-will-lose-any-hope-of-going-home-rohingya-live-in-fear-of-resettlement-myanmar-rakhine-state