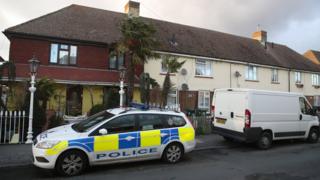 Counter terror police are probing a suspected far-right stimulated criticize in which a 19 -year-old man was stabbed.
The victim suffered non-fatal hurts after being struck by a guy armed with a baseball bat and spear and shouting racist abuse in Stanwell, Surrey.
The man, 50, was apprehended on skepticism of attempted murder and a racially-aggravated public ordering offence.
Home Secretary Sajid Javid called on culture to "reject the terrorists and extremists who seek to divide us".
He added: "Now's the moment for us all to challenge the animosity, stupidity and violence they peddle and stand up for the kind of country we are and want to be.