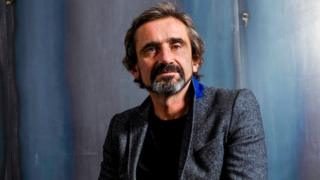 Superdry executives, including the chairman and chief executive, have resigned after founder Julian Dunkerton won his entreat to be reinstated to the board of the company he founded.
In a narrow victory on Tuesday, Mr Dunkerton won the support of 51.15% of shareholders who voted.
After an emergency board meeting eight heads resigned en masse.
Mr Dunkerton, who left the chain a year ago, has been appointed interim chief executive.
He has blamed management for flagging auctions and profits and has promised to revive the firm's performance.