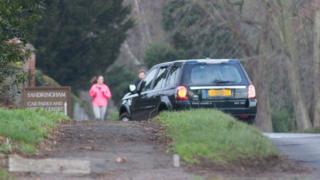 The Duke of Edinburgh has been read operating a brand-new Land Rover 2 day after being involved in a clang on a road near Sandringham, Norfolk.
Pictures in the Daily Mail and The Sun are said to show Prince Philip, 97, pushing alone on the Sandringham estate.
A replacement Freelander, the representation the lord was considered operating, was delivered to Sandringham on Friday.
Prince Philip was unhurt in Thursday's crash but two women were injured.
The duke was in collision with a Kia. The operator, a 28 -year-old woman, lost pieces, while a 45 -year-old woman passenger ended her wrist.