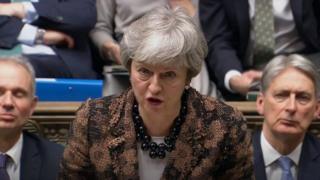 MPs have begun putting forward proposals to change the outcome of Brexit ahead of next week's scheduled voting time Theresa May's amended deal.
Mrs May will fulfill her cabinet after telling MPs on Monday that she was focused on varying the Irish backstop.
But Labour leader Jeremy Corbyn said the prime minister was in denial about the different levels of opposition to her deal.
Among the MPs' amendments are plans to prevent a no-deal Brexit and to extend the deadline for leaving the EU.
'Brexit deadlock'
An official Labour Party amendment says that MPs should be able to vote on options such as the party's opted outcome of a closer relationship with Europe, with a permanent customs union.