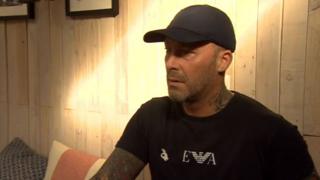 A former roofer who volunteered on DIY SOS said he was "lost for words" after his home was renovated by some of the person or persons he formerly labor alongside.
Darren Hudson, who expends a wheelchair, was left caring for his three sons, one of whom is severely disabled, after his wife been killed in December 2017.
He said he was left "humbled" and speechless by the transformation.
The ex-tradesman, from Hessle, near Hull, volunteered in 2014 when the BBC TV team went to Rise, East Yorkshire.
They helped refurbish the residence of Jason Liversidge who has Motor Neurone Disease.