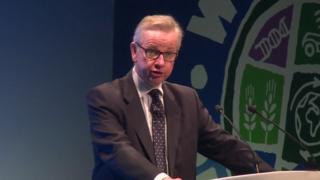 Farmers and food producers face "considerable turbulence" if the UK leaves the EU with no deal, Environment Secretary Michael Gove has said.
He told the Oxford Farming Conference it was a "grim and inescapable fact" there would be tariffs on exports and new sanitary and other border checks.
While "not perfect", he said Theresa May's Brexit deal would protect market access and provide economic certainty.
The National Farmers Union called for a new statute to protect meat standards.
And environmental campaigners said Mr Gove should set up an independent regulator to ensure that minimum rules to protect water, soil, wildlife and animal welfare are maintained.