Shortly after we got married, Brian told me he was really "re thinking of" joining the service. We had always has spoken about his job direction being in some sort of service, but to me, it was just a fantasy. My father was in the Navy until he was medically exhausted, so growing up American Pride has always work through my blood. The pennant, the hymn, and any service member[ have] ever mailed chills up my prickle and weepings down my face. I admired their relinquish and searched up to their spouses, but never had any desires to be one of them. That calling was something I concluded I didn't have in me. That was, until my now husband couldn't stop talking about feeling pulled in the direction of becoming a soldier. I could see how passionate he was about it, so we took the next steps and got all our information. Then — we received ourselves pregnant. Something we were clearly not scheming during our first time of union and knowing we would be spending period apart while he attended qualify. But class all over the world do it, so we continued on.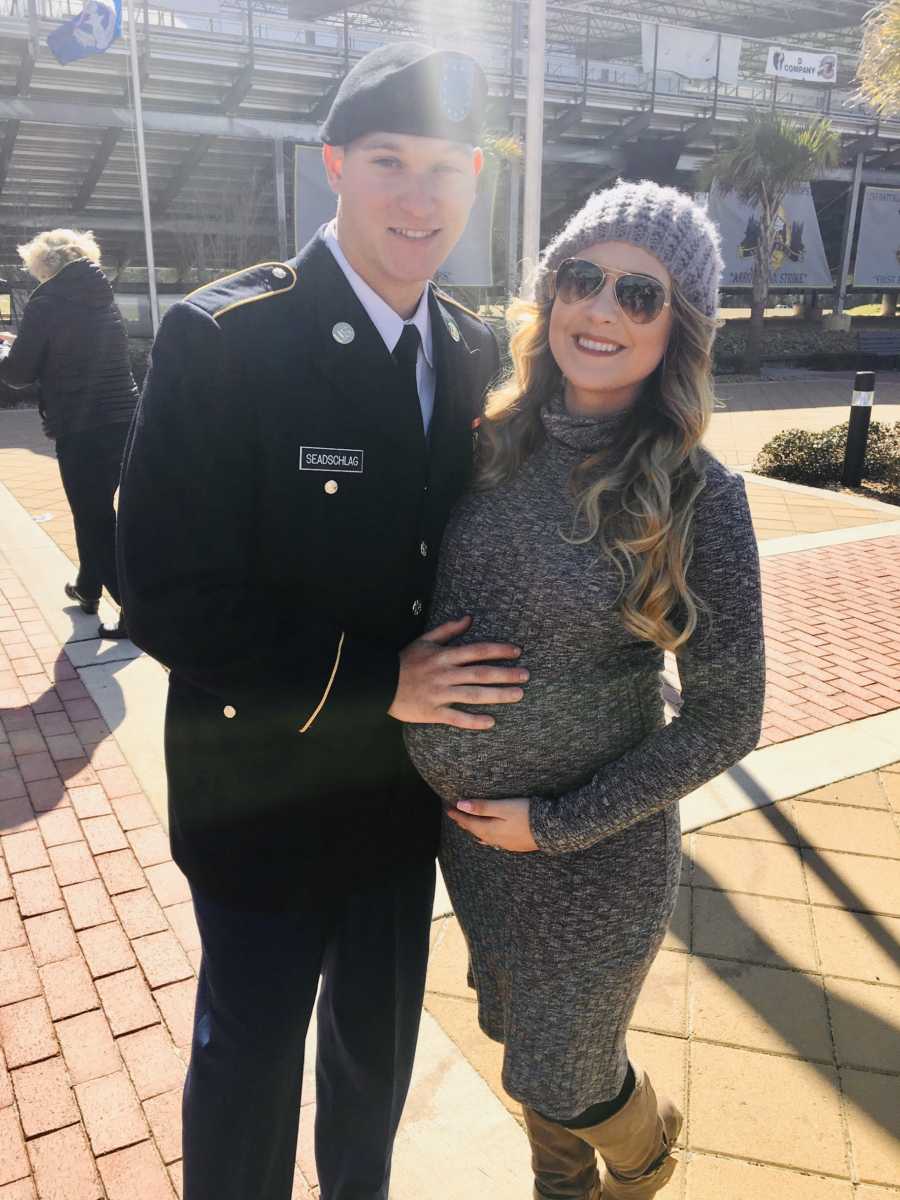 We decided to do the genetic tests to identify areas the gender before Brian left for discipline. He would be gone a total of[ eight] months. But early on in my pregnancy, I had placenta privea and is entered into pre-term proletariat. Bleeding, contractions, dilating. All of it. But they refused to' artificially preserve' my baby's life because my screening was coming possible for Down syndrome. They intent up not being sure if it was a false-hearted positive because of my compromised placenta, or if I did, in fact, have a babe with Down syndrome.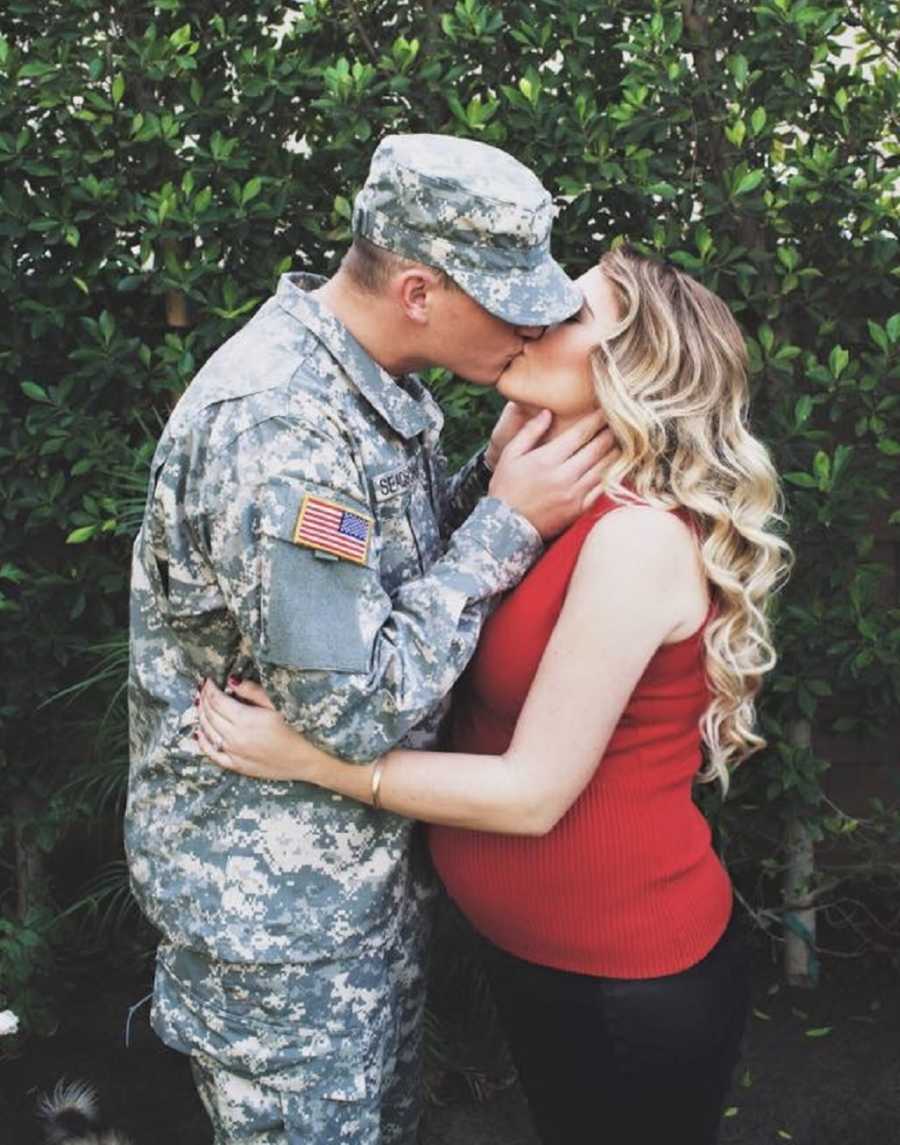 Bed rest followed until I was about 20 ish weeks pregnant. I bled most, if not all, of this time. Brian had left for the next[ eight] months at this point. Because of the positive screening, they ran extra tests. My NT ultrasound came back normal , no markers for Down syndrome. My anatomy scan was coming normal other than a small focal point. Had I not done the genetic exam, they would have dismissed it as a soft marker. To be safe, I was sent to a specialist at USC Hospital. I was first briefed by a very cold and robotic genetic consultant. I was became aware of my alternatives, and repeatedly asked to do further experimenting to get a concrete diagnosis before it was' too late.' A CVS and an Amnio. I worsened. Then I looked the fetal centre specialist. I please I could remember his identify, but I will forever remember his face.
As I laid on that cold infirmary bunked in that dark ultrasound room, tottering from nerves, he approached my suit with absolutely no care in the world.' Now, you're farther along than normal gestation for the purposes of an amnio, but if you're worried, we can do emergency cases procedure and I can race your results so you have time…" We had not even done the ultrasound at this object. I waned again. He began the vaginal ultrasound. Now, I can't read anything on those things, but I immediately knew something was incorrect. With my basic knowledge of the human body, I knew both halves of the heart should be very similar in sizing. Adaline's were not. One was significantly smaller than the other. As if it was just not going to develop. I instantly started crying.
'Because we don't know if your fetus has Trisomy 21, there are a few different reasonings for this centre issue. Now if it is normal, then the heart could possibl[ y] develop later on in utero. But if the fetus does have T21 then you're looking at some major center issues. If it can even live a stressful birth with this center, it would then need to undergo open centre surgery or organ transplants. And that's if you make it to full term. But there's no way to know for sure without an amnio.'
I didn't speak much after that. I cried, a lot. My mommy deemed my hand and prayed the whole time. I don't recollect much of what went through my leader, other than suspicion. Fear of losing her before I even got to meet her. Suspicion of filling her and not get a chance to be her mom. Just Fear. And regret. Sadness that this perfect living "girls " who I had grown so is connected to was being talked about as if she was already dead. This was the level where I decided I need to' know for sure.' So out of dread, I consented to an Emergency Amnio.
'I know you said no to terminating, but no one would accuse you. Having kids is hard-handed, having kids with special motivations is even harder. It's going to be all about doctor's visits, and surgeries…' I'm sure he went on and on as that long painful needle was thrust through my belly into the warm, safe dwelling my daughter was living in, but I carolled him out. I merely cried and prayed — prayed that her centre would heal, prayed the needle wouldn't injured her, prayed I wouldn't miscarry. Prayed she would get to live. Prayed that something would be wrong with me instead. If it was between her living or me … that it would be her.
It would be about[ two] weeks before we would find out the research results.' My office will call you with the results, unless there are other findings.' Then that was it. I remember takes part in the passenger bench as my momma drove us home, and I felt numb. She asked me how I felt, and I recollect saying something along the lines of' I just know she doesn't have Down syndrome. She'll be fine.' I'm not sure if this' peace' I had was my route of dealing with everything I had just heard, or if I was going through the denial one of the purposes of this mending process.
Those 2 weeks were the longest, hardest, scariest weeks of "peoples lives". Brian and I could only express via mail. I wrote out those discussions in my head so many times. When he left, everything was fine. We were' in the clear.' When he left, her heart was fine. She was fine. I was fine. In[ six] weeks' time, I had learned my daughter's centre was miscarrying, she might not make it through birth, and she would, in fact, be born with Down syndrome. When I ultimately received the call that she would have Down syndrome, I was so relieved. At first, they called to tell me there were' other findings' from my amnio. So I spend the next 24 hours experimenting what all are available for consultation through an amnio. Horrifying things came up. And Down syndrome seemed to be the best lawsuit scenario. So when I actually met with my doctor and all he said was,' Regrettably your baby has Trisomy 21, ' I exactly stared at him and said,' That's it? ' He was sickened by my deficiency of reaction. But I had prepared myself for' other findings.' Findings this is gonna be life or death. And Down syndrome was not the end of the world.
Brian came home on Christmas leave. The prospect of spending that first night alone together once we smashed away from clas eat at me the whole period. I had no idea how I was going to tell him. He missed it all. He had no clue.
'So babe … while "youre ever" travelled, they discovered some things wrong with the child. I had to see a fetal specialist, and there are some issues concerning her heart which culminated in me getting an amnio to determine if she will have Down syndrome or not … And she does.'
'So? '
'Soo … our child isn't going to be' normal.'
'Hannah … we already is aware of the fact that. You and me[ sic] are the farther things from normal … but she's ours and that's all that matters. Normal is boring anyways.'
And that ladies and gentlemen … is why I enjoy this man.
We spent the rest of his time dwelling at lots of doctor's appointments. Miraculously, all the heart problems cleared themselves up. Brian left shortly after Christmas and the next time I would verify him would be at his graduation, a few months before I generated birth. Our reunion was bittersweet. Lots of rips as this would be our final instants before we became parents, and we were allowed no PDA.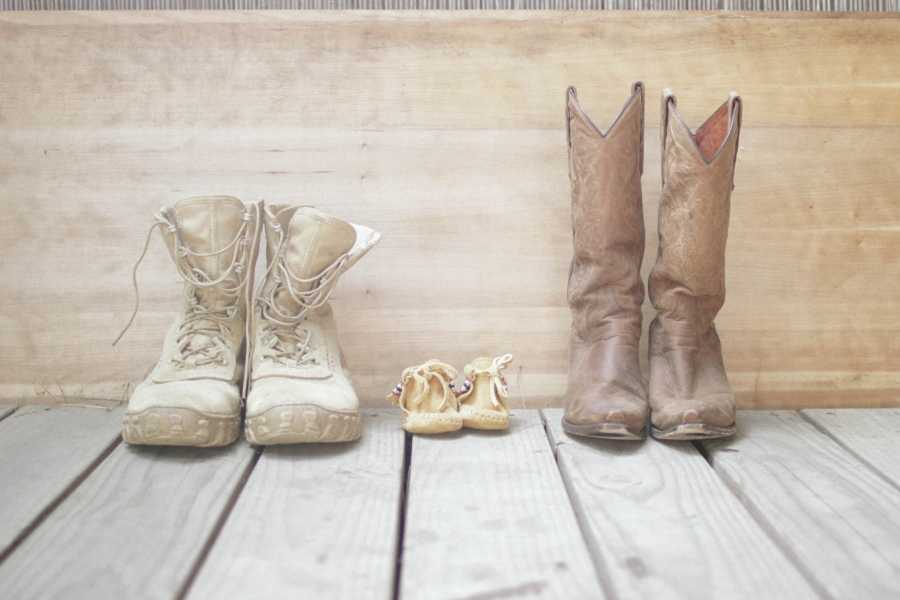 The next month flew by, and on March 26, 2016, at 8: 05 a.m ., Brian watched from phone calls screen 3,000 miles away as our darling daughter Adaline gleaned her first breather. Calmly she came, and our lives were never the same.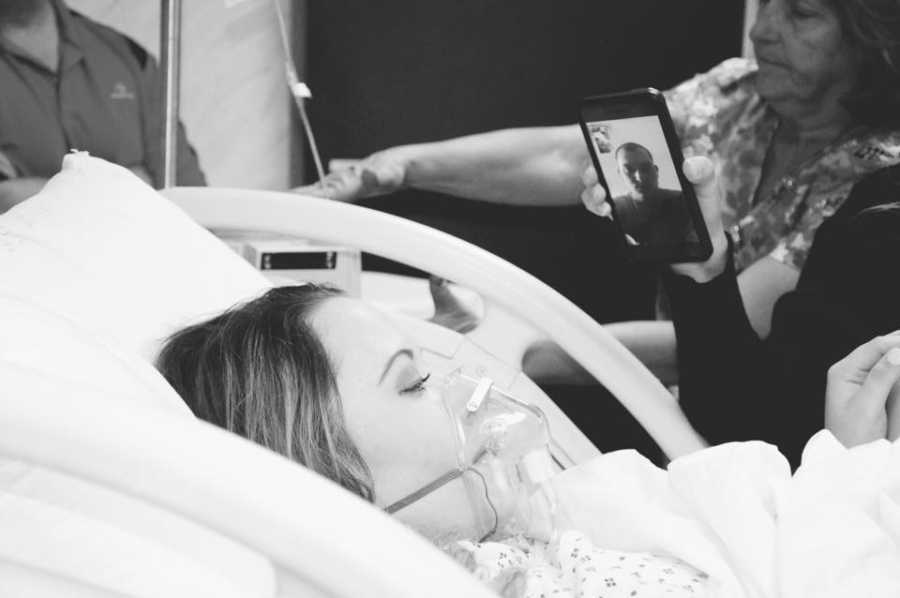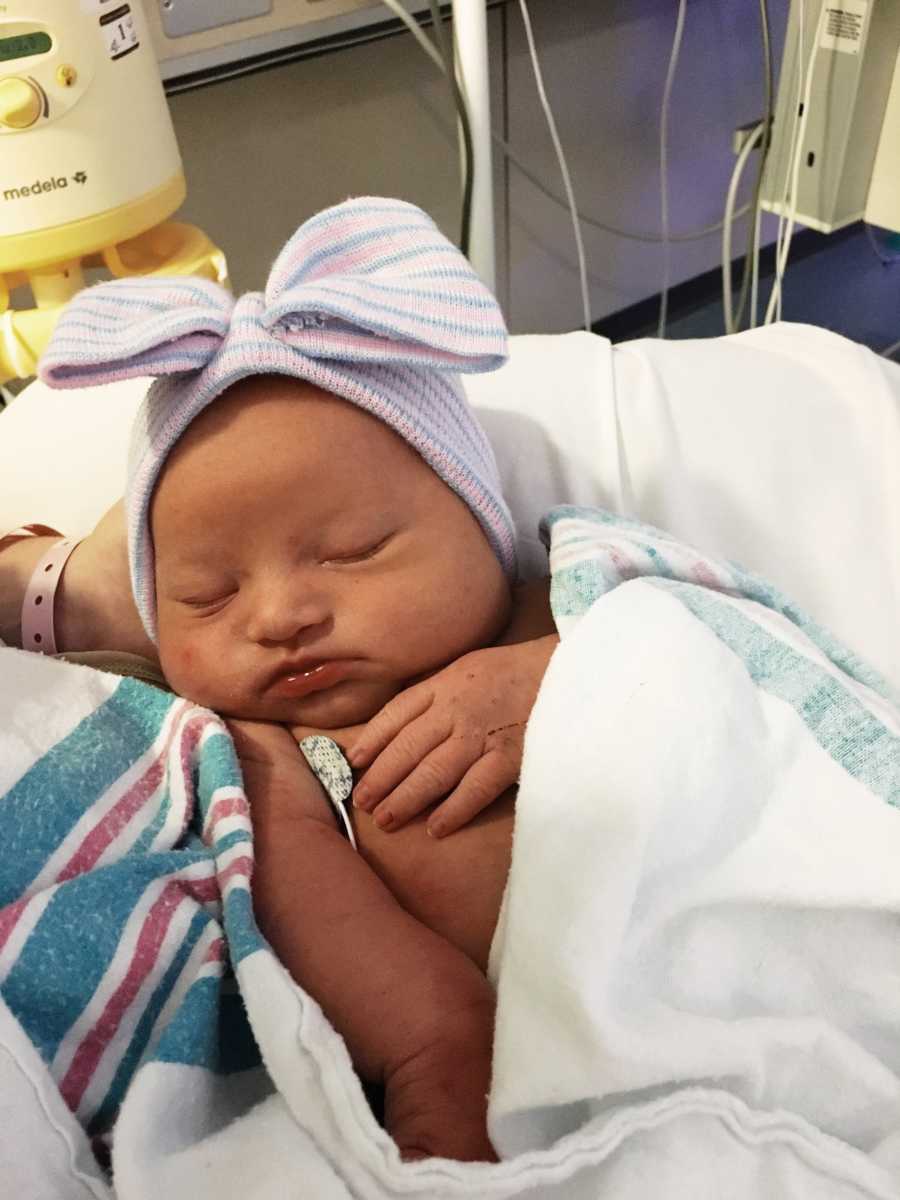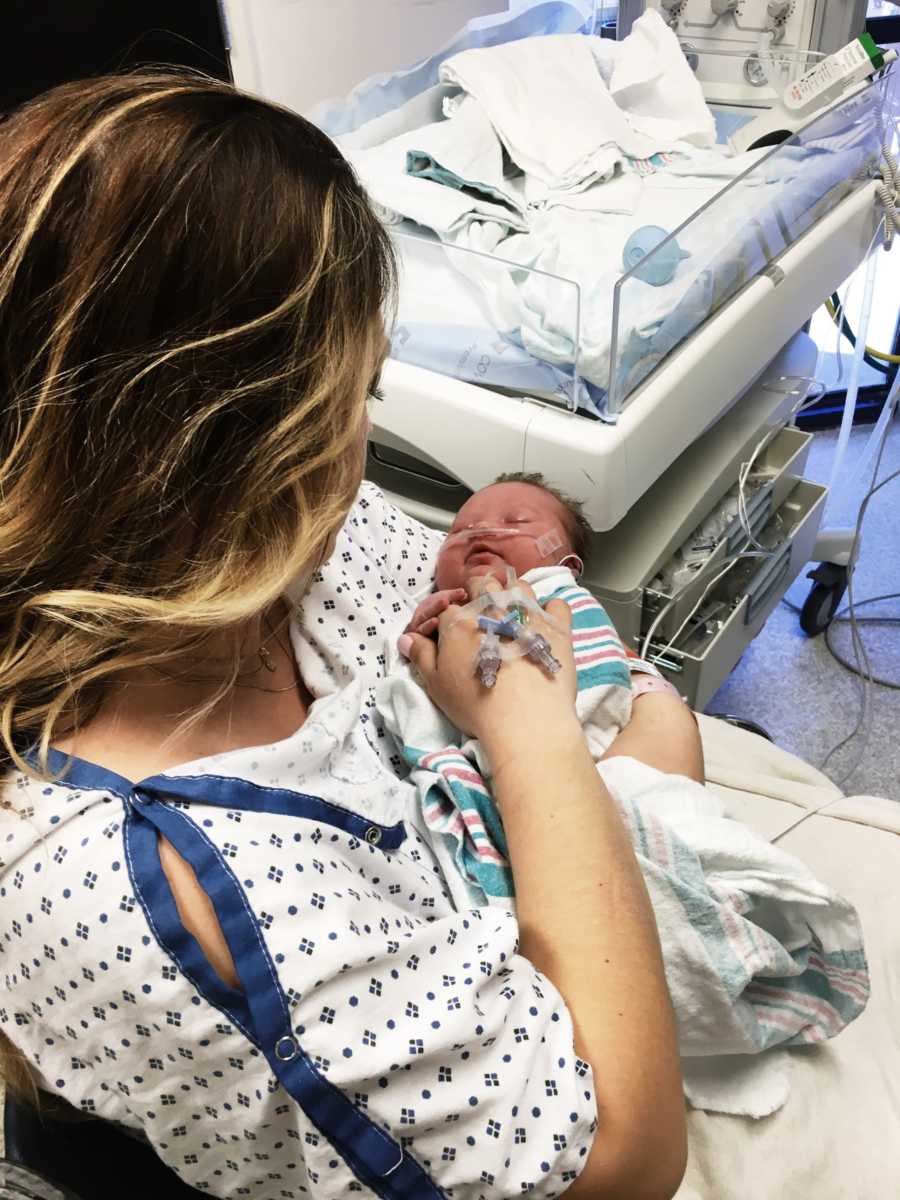 The next four months were rough without him residence. We defeated the NICU, our first outings, weeks of trying to breastfeed exclusively, sleepless nighttimes, doctor's appointments and health frights — exactly the two of us. We started rehabilitations, celebrated firstlies, and thrived know what that is without him. But on that day, July 14, 2016, at the bottom of those stairs near luggage assert, we became a family of three.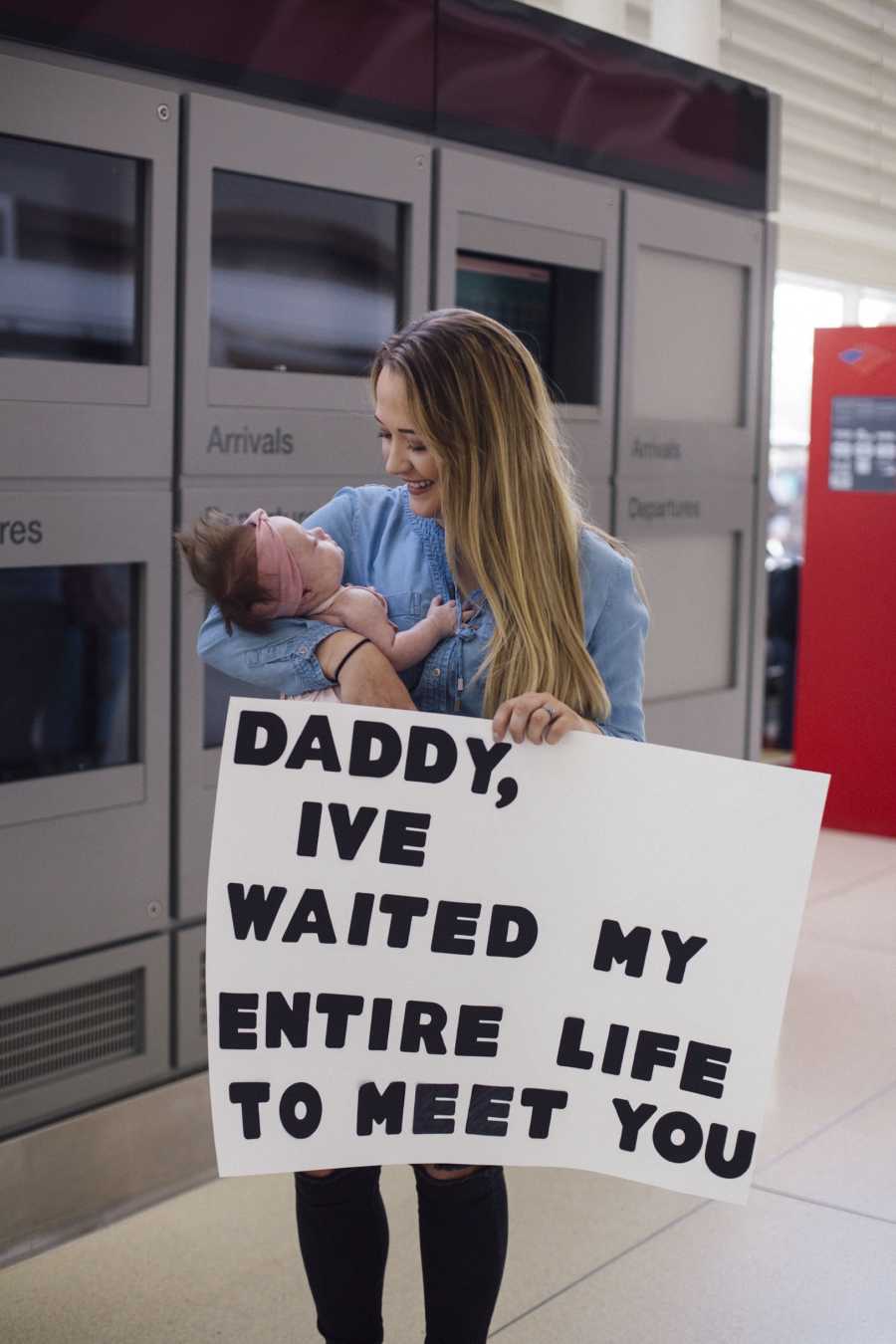 Introducing my daughter to her father was a moment I'll never ever forget. She has always been his twin, and seeing her in his arms was surreal. He had become a soldier, I had become a mother, and this was our daughter.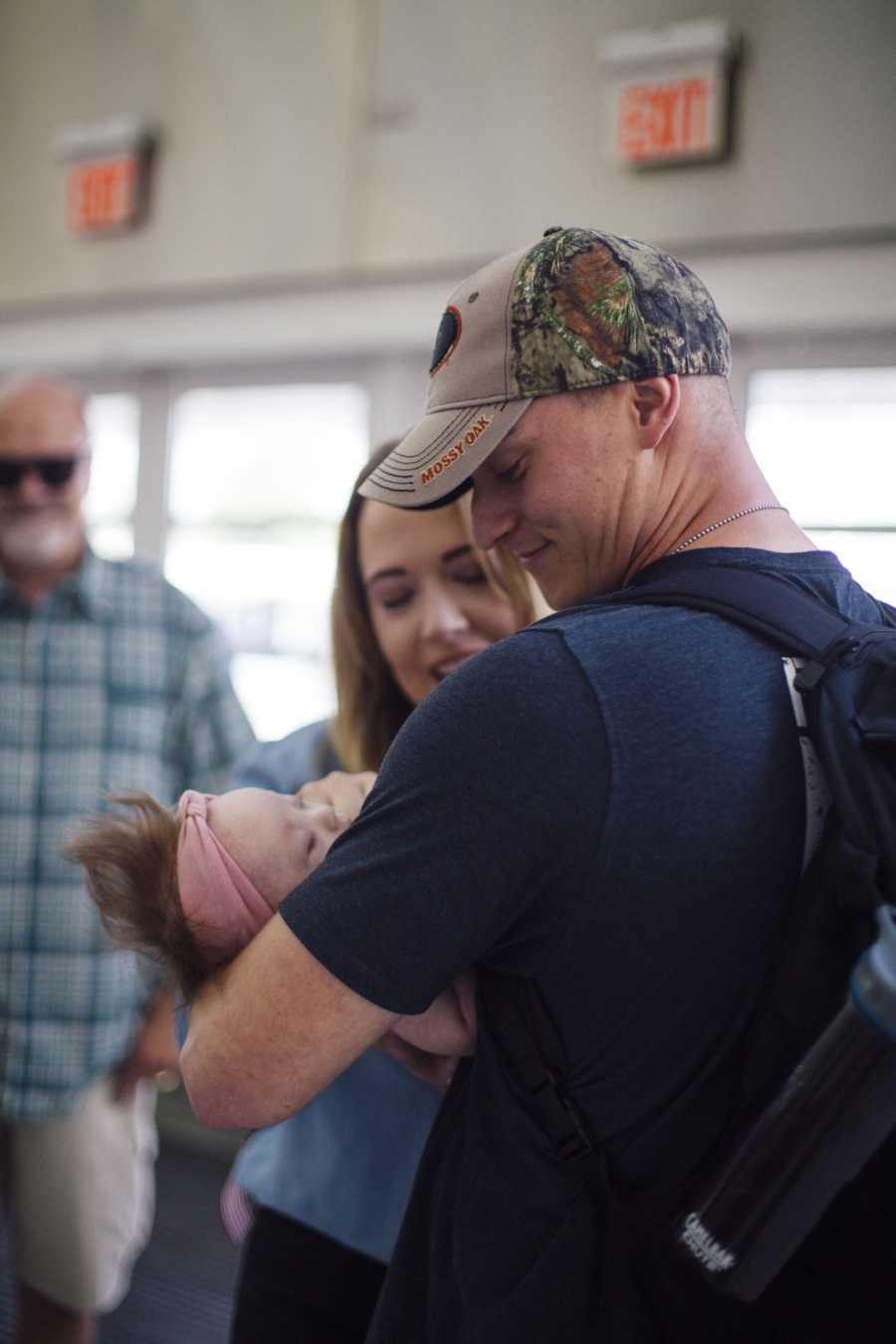 I would be lying if I said it was easy. All three of us were strangers to each other now. But one thing's for sure. Down syndrome was not the end of our world, it was just the beginning.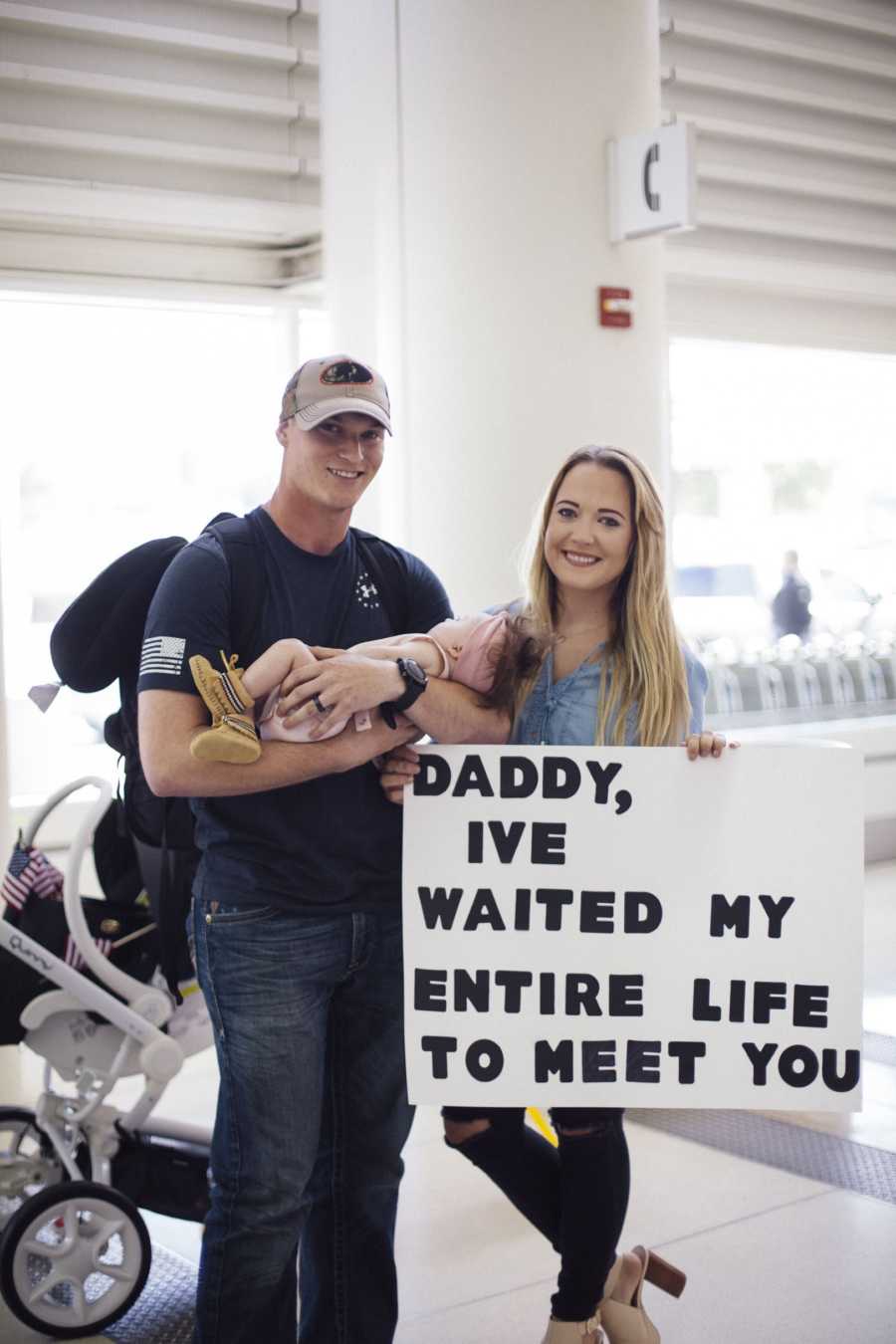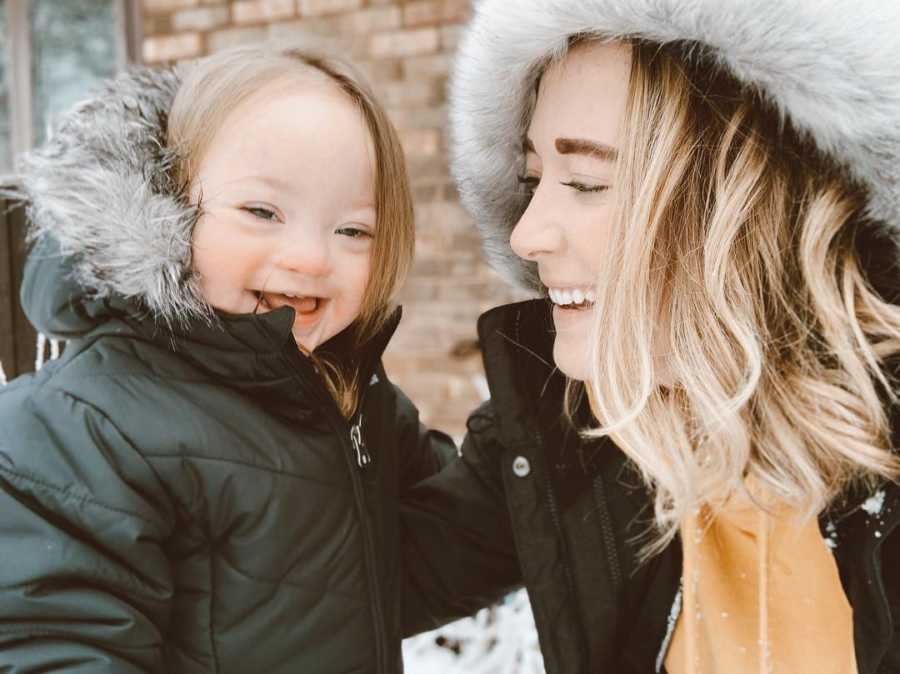 ** This tale was written by Hannah Seadschlag and initially appeared on Love What Matters. Follow their pilgrimage on Instagram and YouTube . em > strong>
Read more: https :// faithit.com/ doctor-says-no-one-would-blame-you-for-aborting-down-syndrome-baby-moms-response-perfect /